Lately I seem to have renewed my appreciation of movies, after becoming slightly sick of watching the same stories unfold over and over again on TV shows.
It's amazing the works of art that can be created through movies. It's amazing the emotions they can make us feel. I wouldn't call myself an emotional person, but sometimes I still can't help but cry when watching movies. I'm not sure if everyone else does too.
In history we're learning about World War 2, the Holocaust in particular after we completed our semester test. We're watching Steven Spielberg's Schindler's List in class, and were meant to finish it today in the double period. Despite the fact that I'm staying home today, I felt the need to finish the movie by myself anyway, and that's exactly what I did.
Oscar Schindler, the saviour, isn't the most likeable man. He's a selfish business man, he loves women, he loves money. The only reason he employs Jews is because they're cheap. He uses war for demand, and slave labour to supply, and the only reason his factory could be called a 'haven' is because he employed a Jewish man to run the business for him. He does become a humanitarian in the end though, after seeing the horrendous treatment of these human beings first hand. Based on a true story, Oscar Schindler manages to save around 1100 Jews in this work of art.
The movie is confronting and intense and ingenuous. It's filmed in black and white, but the colour red appears sometimes, creating all sorts of symbolism. I see red as blood on the Nazi soldiers' uniforms. I saw red on the coat of the little girl going into hiding. Sometimes there was even a subtle red filter on different members of the Nazi party, or maybe I was imagining that. There was so much unadulterated cruelty in this movie, and I never want to watch it again.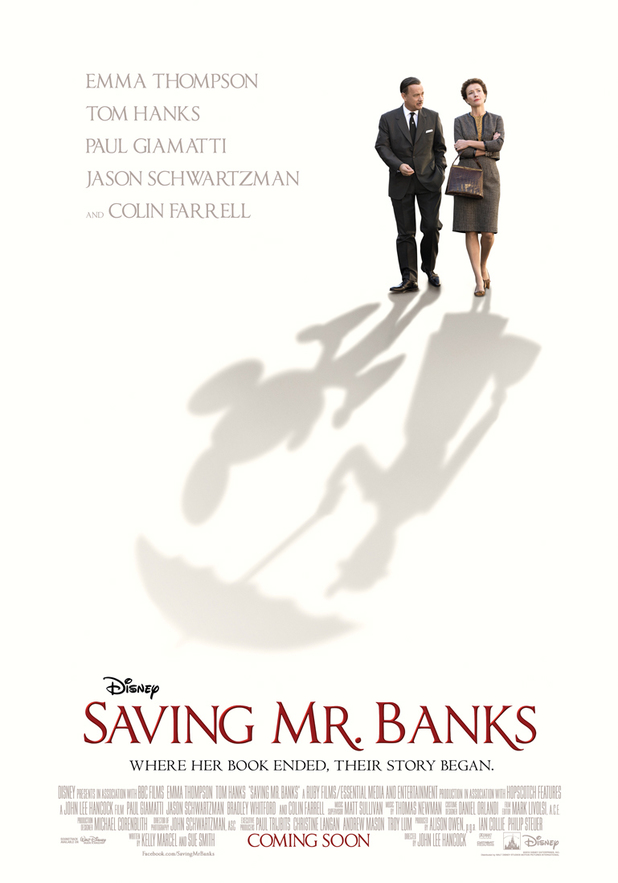 On to a happier note, the other night my mum chose the movie, Saving Mr. Banks, which is based on the true story of P.L Travers, the author of Mary Poppins, and how Walt Disney had trouble trying to gain the rights to her story. It wasn't all Disney and happiness though. In fact, it was quite a sad story as well.
"People write stories to set things right in the world." says Walt Disney to Travers. Mary Poppins is based upon her childhood which she never quite got over. Her father died, her story was sad, and her own version of Mary Poppins didn't succeed in fixing everything. So I guess she had to write a version where Mary did.
I just love how the message isn't that Mary Poppins came to save the children, but rather to save the father. There's the issue of the banks and the money and the children, and the cruelty and misunderstanding of Mr. Banks; but he really is a good person after all. He loves them, just as her father really did love her. At the end he fixes the kite, and what should be a happy ending is bittersweet and cry-worthy.
And last of all, today I decided to watch 10 Things I Hate About You because it has Heath Ledger and why not. Seriously, this movie is one of the best.
It just makes me so so happy. My favourite scenes would have to be Heath Ledger's face when he says "Are you saying I'm not a pretty boy"; when Kat's drunk at that party, dancing on tables and Patrick (Heath) is being all caring; when Cameron (Gordon-Levitt) goes on a tirade and Bianca kisses him to get him to shut up; and that paintball date after Kat flashes the teacher to get Patrick out of detention. I just feel like smiling.
There were also so many things I didn't notice about this movie in all the times I've watched it before. The counsellor's name is Ms Perky, the English teacher is really against white people, Heath's got an Australian accent the whole time, and at one point the dad says "My insurance doesn't cover PMS" which is just the funniest thing. I mean, I probably did notice this stuff but I must not have remembered any of it.

Kat is also a pretty empowered person, I reckon. It's funny how someone invented 15 years ago can embody idealistic culture now. The difference is that back then what she did was weird, and now it would be considered cool for being unconventional. The way she draws on the porch, listens to indie music and reads opinionated books; the way she sticks to her philosophy of doing things for herself and not society's expectations - Girls today envy that.
If someone would make a chick flick just as good as that one today, I'd really appreciate it.
Love,
M